Official Press Release
Maryville, TN (August 19, 2022) 
Anthony Belcher and Sound Chamber Records Announced the debut album "I'm Not Ashamed"! 
Anthony Belcher - First of all I want to thank God for the opportunity He's given to me as I'm continuing to learn how to sing and become a recording artist. I'm also thankful that I get to learn from Jerry Martin, Gospel Music Hall of Fame Inductee and owner of Maryville Music Academy, every week on how to sing better and develop as an artist. 
These past few years have been rough with covid closing Stamps and The Steve Hurst school during the summer but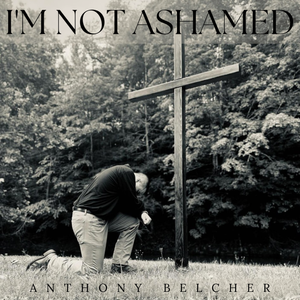 God has made a way for me to keep singing and to learn more about music thanks to Jerry at Maryville Music Academy! I praise God for that and I'm very thankful to be a student at Maryville Music Academy and under the tutelage of Jerry Martin. Getting to record songs at the Sound Chamber Records studio was an amazing experience! 
At first, I just wanted to do some in-person lessons at the academy and then we started working on Artist Development. Jerry's vast knowledge about the music industry, artist promotion, album promotion, branding, and many other behind-the-scenes mechanics that you must learn was not only exciting but very insightful on what I must do to succeed in the music industry. Eventually, we decided that it was time for me to record my first album and truly develop as an artist. It was so much fun recording some of my favorite songs at Sound Chamber Records! It was amazing seeing how the songs all came together and getting to hear the finished songs were awesome. I can't put into words how amazing that experience was but I'm very thankful to God that He has allowed me to come this far and that He's been with me every step of the way. 
I hope and pray that this new album, "I'm Not Ashamed", will be a blessing to everyone and that it will be an encouragement for them whenever they're going through hard times or struggles. I hope it encourages them to stand up for Jesus and not be ashamed no matter what may come tomorrow. 
Jesus will love us still! 
Jerry Martin - Maryville Music Academy Owner 
It has always been a pleasure working with Anthony from the very first lesson to how far this young man has come. Anthony has a heart for God and for people. I have seen incredible progress with him and his willingness to learn and step out on faith is something to behold. I am very proud of Anthony and how he continues to work hard, continues learning, and gives 100% on everything he has done so far in his career. The future is bright for Anthony and I am honored to be a small part of what he is doing. This album is sure to bless and encourage anyone who hears it! 
The album will be released on September 24, 2022, at a special album release concert! The album will be available at the concert and available for purchase online that day! Find out more details about the concert as there will also be a LIVE streaming link provided on Anthonys' Facebook music events page as it develops.
Click the link below to find out more!
Make sure you pick up your copy and support Anthony's ministry!

To learn more about Anthony Belcher's music, Go Here